Overview
To deliver our award-winning programming to local audiences, we have talented teams based in London, Johannesburg, Warsaw, Cologne, Paris and Amsterdam who license our award-winning programmes and channels; production teams who create local adaptations of hit BBC formats and original IP; and teams who bring our franchises to life through merchandising.
We distribute the full portfolio of BBC-branded channels in the region. BBC BRIT, BBC Earth, BBC First, CBeebies, BBC Lifestyle and BBC World News are available, informing and entertaining audiences across all ages in markets such as South Africa, Poland, the Benelux, Nordics and Turkey. As part of a joint venture with ITV SVoD service BritBox is available in South Africa and will shortly be launching in the Nordics. Through partnerships with Pluto TV, Samsung and Ratuken we operate FAST channels in markets such as Germany and Italy based around key genres like drama and history.
Over the years, we have established long standing relationships with broadcasters across the region who license and co-produce on content including ZDF German Television, France Télévisions, Canal +, NPO, NRK, SVT, DR, MNet, HOT/YES alongside new and emerging local digital platforms.
We've set up BBC Studios Production Germany and Nordics and invested in award winning South African production company Rapid Blue, alongside our established production arm in France. Across the region, these teams produce content and local adaptations of formats that have proved to be a big hit with local markets such as the French versions of The Great Bake Off - Le Meilleur Patissier and Come Dine With Me South Africa. The team also license hit formats such as Dancing With the Stars, Top Gear and Doctor Foster to local broadcasters and platforms.
With so many opportunities, are you inspired to be part of our fast-growing EMEA business?
From Denmark to South Africa, BBC Studios has been actively building its production footprint in the region with initiatives to help us bring more world-class formats to local viewers.
Our office locations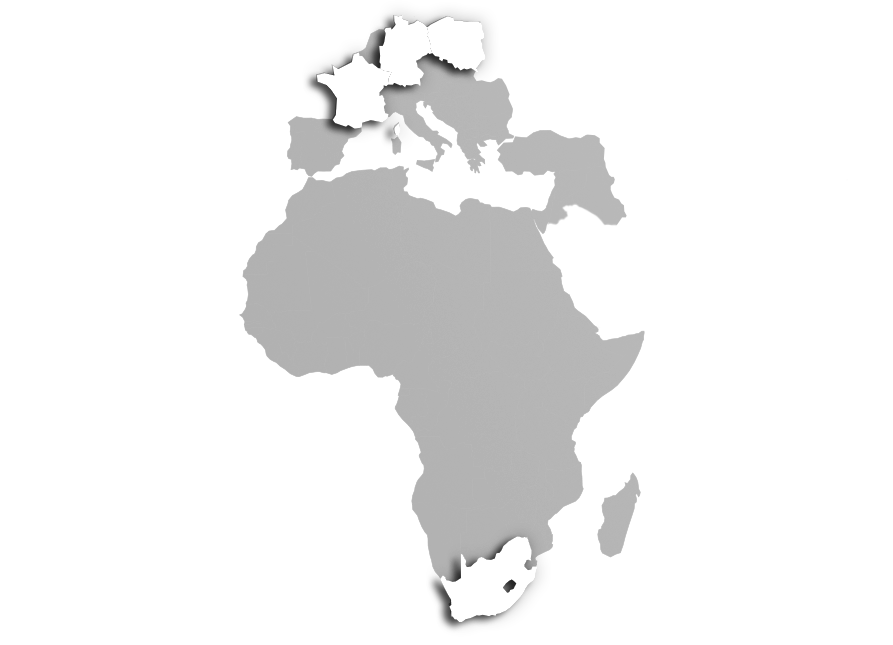 Amsterdam

Housing BBC Earth Nordic, BBC Brit Nordic and BBC First Benelux, these channels are scheduled and run from our Amsterdam offices.

View Jobs

Cologne

Our office in Cologne is where we coordinate our growing television and publishing activities across Germany – one of our principal markets.

View Jobs

Johannesburg

We've brought BBC Brit, BBC Earth, BBC Lifestyle and CBeebies to South Africa, continually investing in local production companies.

View Jobs

Paris

Paris has long been synonymous with fantastic productions. We've established a thriving production base in the city to work with major local networks and expand BBC Studios formats.

View Jobs

Warsaw

From our modern headquarters at Plac Bankowy 1, Warsaw, we've brought our incredible BBC Earth, BBC Lifestyle, BBC First, BBC Brit and CBeebies channels to Poland, reinforcing its status as a priority market.

View Jobs
Meet our people
We're people like Andy Fernandez

Andy, who brings a fresh look and approach to every project as a Senior Producer in Singapore.

"My career in TV production began in Bombay back in 1994 and five years later I moved to a cable and satellite television network in Singapore. I fell in love with the city and have been here ever since. I did spend a few months with a production house, but broadcast has always been my thing. Nine years ago I joined BBC Worldwide as a Producer and I haven't looked back, continually developing my broadcast skills and growing my career."

"What I really enjoy about my job is that I have both production and management responsibilities: I'm involved in producing promotional videos, mainly for On Air but also for Sales and Marketing, but I also guide and direct creative decisions and oversee the team's workflow. The opportunity to work with premium, quality-based programming on a daily basis is all the motivation you need, and I try to bring a fresh look and approach to every project – I really put my heart and soul into every job, staying positive even when things don't go so well. I also enjoy the working culture. There's mutual respect throughout the whole team and I'm always learning from others."

We're people like Chris Cole

Chris, whose entrepreneurial talents enable him to brainstorm ideas and fight fires as Executive Vice President, Strategic Partnerships/Projects in New York.

"Before I joined BBC Worldwide, I spent 14 years as an executive producer and a year as part of the BBC's commissioning team. This involved working with both in-house and independent productions in the USA and UK, and delivering science and natural history projects across BBC channels. It's great to compliment and use that experience in the commercial world. My role has allowed me to develop my interests in factual entertainment, and with BBC Worldwide, you're guaranteed great content, a great brand and great people – all rolled up into one organisation."

"I'm responsible for developing and driving strategic business growth for our factual content in North America including sales, co-productions and front list SVOD. It's about being positive, creative and entrepreneurial, and there's a lot to my role from supporting my team to brainstorming ideas on how to get the best deal done. I talk to clients, solve problems, fight fires... and generally make stuff happen! If I were to pick one highlight from my three years here, it would be negotiating a new co-production output deal with the Public Broadcasting Service in America to support the BBC's pipeline of great factual content."

We're people like Orlando Turner

Orlando, whose role as an AV Systems Engineer has allowed him to learn from the best talent in the industry.

We're people like Ellie Pullan

Ellie, a Programming Executive on the Digital Children's team, who helps to facilitate various teams' KPIs through supporting digital-first campaigns.

We're people like Jay Jaxon

Jay, who's a problem-solver extraordinaire as Operations Director in Miami.

"Operations in Miami provides end-to-end support to our Latin America region. That means ensuring our content is secure and our people are safe, providing playout and distribution to our channels business, creating cost-efficient, sustainable and reliant workflows to the sales content team - and anything else the region needs. You can imagine how much of my day is spent solving problems; it really keeps me on my toes."

"I started in live events before moving into the music business as an audio engineer. I then moved into TV and the rest, as they say, is history. I've been witness to some fascinating changes as we've moved from tape to tapeless, from tapeless to file-based environments, from linear TV to non-linear and video on demand platforms."

"I decided to develop my career on the Operations side of the business and I've been at BBC Worldwide for two and a half years now. I've been fortunate to be able to build an incredible team around me, the people here really are first class. While I might have been around a bit I'm still learning, particularly on developing my leadership skills and technical knowledge."

We're people like Rosie Thomas

Rosie, whose favourite part of her job as a Producer of Green Planet is the opportunity learn and travel.